Every one of our teaching qualified PGA golf professionals possess exceptional skills and attributes that make them not only peerless instructors, but seasoned experts. They have earned their reputation for following a standard manual created by the School Director. The Education Director Luiz added years of experience playing on the tour and teaching kids, youth and adults. Our professionals' team work of dedication to the development of golf skills, but in helping they pupils to realize their full potential. They are friendly, enthusiastic and committed to the golf development of each pupil providing the most comprehensive golf instruction available.
NATALIA SORIA
Natalia was first introduced to the game at the age of eight by her father Bernardo Soria who is a one of the best golf players in Bolivia. She grew up in a golf family where her younger brother Rodrigo Soria also plays competitively. Nata made her competitive debut at the age of twelve on local junior and provincial series and immediately won V.B Juvenile Girls' Championship in 2007. As a junior golfer, Nata was soon nominated to represent her province, La Paz in many provincial tournaments in Bolivia including South American Andes Cup, International Junior Challenge, Challenge where she swiped trophy for herself individually and for her team.
From 2009 to 2014, starting at age 14, Natalia was selected to join the Bolivian National Team where she trained with the one of the best players and coaches in South America Luiz Martins. Nata represented Bolivia competing all across South America and USA. Her success on the golf course helped her receive a full ride athletic scholarship at Bellevue University in Nebraska. In 2016, Nata earned 4 times being the player of the week and was part of 7 team wins including third place on the National's Championships. Natalia was first for individual single season scoring average (72,5) and had many rounds of par or better. She was also successful in the classroom as she graduated in 2016 with a degree in Business Administration.
Nata turned pro as soon as she got contact with her coach Luiz who will she work with and immediately start to prepare to a sectional qualifier to play in the U.S Women's Open in 2021. She will also prepare to overcome the LPGA Tour Qualifying school and Symetra Tour phases in addition to trying to play the LPGA of Canada. She will join PGA of Canada in 2021 and currently coaches out of LM Golf School experiencing in coaching golfers at all levels from beginners to elite players wanting to turn pro.
ALEJANDRO MOLINA
I started playing golf at the age of 12, the world of golf caught my attention since it seemed to me a very complete sport, when I learned more about golf I saw that it really is quite a preparation and the golf course is very wide, the Golf opened too many doors for me, thanks to golf I traveled to play golf in various places in South America, to know places and at the same time I found many friends along the way.
Throughout this journey, golf really revolutionized at home, since at home we all talk about golf day and night, being so the dream of my brother and me is that golf is part of our lives, my brother decided to study with golf and go to the United States and join the team. For me, golf really changed with the trips I had and that thanks to my coach Luiz Martins, I was able to take advantage, traveling to play with a team or individually gave me the strength and the certainty that golf will really change my life, enter the professional world of golf, since the possibilities are many, and I really think that golf opens many doors for you. I think that golf as a sport makes you a much better person.
MOHAMMAD MOHSENI GOUDARZI
Mohammad is Iranian, lives in Bolivia, has played golf since he was 6 years old with an indescribable love for this sport. Mohammad believed that golf has contributed to his development as a person and professional throughout his career, from 15 to 18 years he has participated in national and international tournaments and has achieved a good level of competitiveness. Then, over the years, his trajectory with Coach Luiz learning everything about the golf industry and the path was changing towards a stronger path to a professional career both as a player and also as an instructor. Mohammad is already in the process of improving the learning of all aspects of the golf instruction, progressing every other day to work at the school that trained him alongside his Coach for guide and training of new golfers.
THIAGO VASOVINO
Thiago Vasovino 42 years old. His history with golf started on December of 1995, getting his first diploma, in order to enjoy all the rights and legal prerogatives, aiming at competitions. This all started because his Coach Luiz Martins, who was and still his biggest supporter in sports and the one who introduced him to the golf when Thiago was a child. Nowadays he couldn't be more grateful to Luiz, because golf has been providing him opportunities and lessons in life. As in any sport, the beginning is a bit frustrating, but Luiz encouraged Thiago to play tournaments, he started to get better and reach a certain degree of technical improvement, he got to know several courses in the national territory and cultivated several friendships. That's when the cool part came, which is the love for the sport. Golf started to bring Thiago many new best relationship and networking as well. Thiago has never abandoned his Coach and until these days Luiz is his Mentor, always improving and perfecting his playing style – and always showing him and making he believe in his potential. Thiago became a great Golf Professional 17 years ago, during his career he took several courses, in Brazil and in the United States, but he never forgets the primordial teachings that Luiz passed on to him. Thiago teach classes for children and adults and his are very proud to be part of LM Golf School team.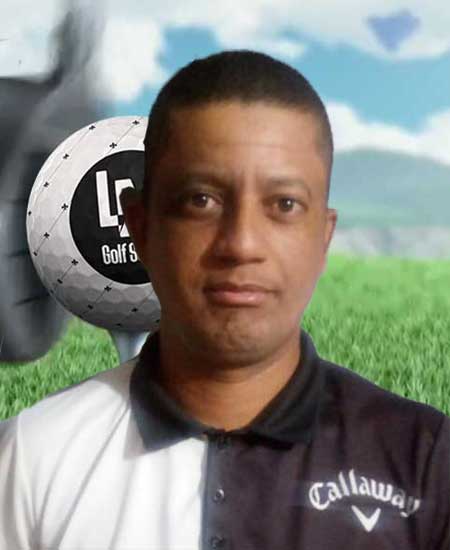 FÁBIO
Fabio started his career as a caddy at Ponta Grossa Golfe Clube. For many years he was the Caddy of many clubs members including Luiz Martins, his inspirational and career assistant. Soon he was Caddy Maestre for 10 years and during that time he was accumulating knowledge and experience to improve his performance as a golf professional! In 2017 he became a member of PGA of Brasil which followed its guidelines, attend courses and respected the insignia until today!
He attended his first course in 2018 at the PGA Village, organized and taught by Luiz, where he learned the techniques of classes for beginners, intermediate and advanced! Fabio and the regional coordinator of Golf in Paraná, a project adapted for the inclusion of children and young people with (ASD) Aspect Disorder Autism and Down Syndrome, and multiple motor disabilities since 2016. In 2018 he graduated from LM Golf School to teach golf lessons for children, young people and adults through the LM manual and became part of the team of instructors representing the LM Golf School in Brazil.
MAICON DIONE
Maicon Dione as he is known, started as Caddy at the age of 8 at the Curitiba club in the city of Curitiba Paraná. He decided to be a professional and during a period of his career he worked at clubs such as: Alfaville Graciosa, Santa Monica Golf, Las Palmas Golf in Parana, and Itapema Resort in Santa Catarina. Today a professional at Colinas Golf Residence in Cascavel, Paraná. He works with the club's golf operations, mainly training junior and adult players. Maicon has been part of the LM Golf School group of professionals since 2010 and has gone through all the qualification stages of the School, having been approved to work and teach children, beginners, intermediate and advanced players. He was recently certified as a Kids Coach. Maicon devotes time and attention to working with the youth of his current club, as well as organizing tournament operations. Maicon is also an effective member of the PGA do Brasil, the Brazilian Federation of Golf Teachers and the PGA Sudamericano.