LM GOLF SCHOOL SUMMER GOLF CAMP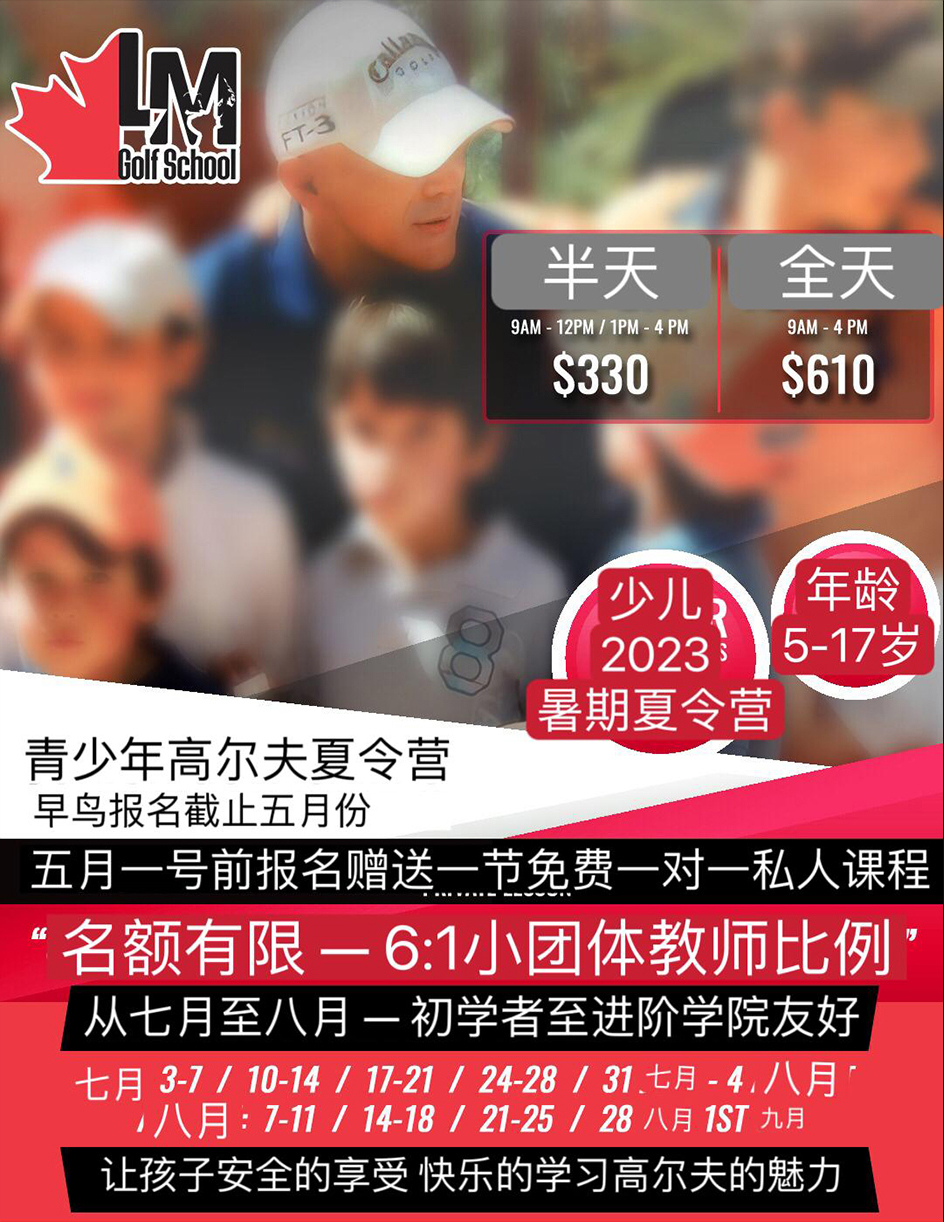 Experience The LM Golf School Camp Program
We always work on Structure and Unstructured Exercise and combine golf with other sports, which will help build their swings.
Our golf camps
Coach Luiz has over 20 years of experience playing on the South American Tour, Asian Tour and European Tour, through his past experience Luiz offer top quality instruction to kids of all ages and abilities. Regardless of whether you are a rank beginner, aspiring amateur our professional Coach Luiz will help you to reach your full potential. The Camps program provide top quality instruction for beginning, intermediate, and advanced young golfers. We help kids help sharpen many aspects of their golf game, including driving, chipping, and of course, putting.
"As part of the City's COVID-19 response, indoor recreation facilities are closed. Golf courses reopen. Games or activities that do not allow for physical distancing of two-meters and team sports are not currently allowed. We remain attentive to the effects of the Corona Virus."
Our golf camps have many appealing features. They include the following:
Top quality instruction from top Golf Coach and assistants professionals
Tailored golf lessons for kids of different skill levels
Golf clinics practice and shows
Mini golf tournaments and prizes
Weeklong, day, and half-day formats.
The benefits of golf camp for your child
Our golf camps for juniors have lots of benefits. We provide professional golf training in a safe, encouraging, and fun environment. At a golf camp, your kids will be able to fully hone her or his golf skills. Our golf camps are staffed and headed by Luiz Martins (PGA Master Professional), that having played on tour for over 20 years who will be able to offer important tips to improve your child's game and bring it to the next level. Our golf camps can also be a great way for your child to get fresh air, make friends, and have fun.
We have a right golf camp for kids
There are lots of different types of golf camps for kids. Many of these are golf summer camps, including some overnight or sleepover golf camps. There are, though, camps which offer golf lessons for kids during the school year. All very good!
Our summer camp offers the opportunity to play many different sports, including golf and structured and unstructured exercises to develop the physical and mental of all kids. Our camps are specializing in golf, followed by those that offer it as one activity among others, such as soccer, volleyball, handball and others. We are waiting for you.
Physical Literacy
The Head Coach Luiz has a PhD degree in Physical Education and believes that the child's physical literacy development should be explored at a younger age. Physical literacy is key to both the enjoyment of participating in sport and serves as requisite as we develop participants through the various stages of development. The development of physical literacy (much like establishing a base level of reading, writing and arithmetic in school) should be a major focus prior to the adolescent growth spurt. The process of becoming physically literate is influenced by a kid's age, maturation and capacity. Typically, kids who are physically literate demonstrate a wide variety of basic fundamental movement skills, and fundamental sport skills. In addition, these kids move with poise, confidence, competence, and creativity in different physical environments. Kids who are physically literate are also more likely to be active for life as they have developed a sense of confidence through his/her development. Golf relevance is that a basic physical literacy aids in the learning, accomplishment and longevity of the specific actions required by the game of golf. You can connect with the Head Coach any time via number (647) 781-8463.
Payment
Let us know if you would like your child to be at Camp in the afternoon as well.
Total cost for each session
Half Day 1 week Camp
Total cost for each session
Half Day 2 weeks Camp
Total cost for each session
Half Day 3 weeks Camp
Total cost for each session
Half Day 4 weeks Camp
Method of Payment: Cash INTERAC e-transfer to e-mail: bogeyluiz@hotmail.com
LM JUNIOR GOLF CAMP – FAQS
LM JUNIOR GOLF CAMPS At LM Junior Golf Camp our goal is to give juniors the coaching and positive support needed for them to improve their physical, mental and games and to grow as individuals. We believe that golf gives juniors of all ages and skill levels, the opportunity to learn valuable life skills and build character. We believe that for juniors to get the most out of the learning experience the coaching must be positive, fun, full of interaction, and be personalized. This means we keep our group sizes small and have players of the same ages and skill levels learn together. Our camps give juniors a great introduction to golf and our coach and the option to continue learning the game in our year-round programs.
What's included in the program?
1. Advancing training (life skills, core values and challenge for all ages)
2. Group lessons (allowing for interactive instruction and learning)
3. Multiple age groups & skill levels (enabling juniors to learn with others their age and skill level)
4. Various exercises, games and challenges (allowing each player the opportunity to analyze their own body skills)
5. Skill videos for all techniques learned (helps each player review all of the skills that were covered through the program)
6. Joy, happiness and lots of games.
What we teach?
1. Golf Skills and Fundamentals having fun
2. Short irons
3. Long irons, Woods, Driver
4. Puttin, Chipping, Pitching
5. How and what to practice
6. Developing hand skills
7. Sportsmanship, Rules and Etiquette 8. Course management
9. Compete to Gather
10.Golf experiences and "always competing"
11. Life skills 
Essential lessons that are included:
Self-control and Responsibility
Humility and Resilience
Core Values
Compete to Gather
Practice Gratitude Life skills
Respect and follow the Coach's guidelines
What does the junior golfer need to bring?
Junior golfers need to bring their personal golf equipment needed to participate in all aspects of the camp, which includes but not limited to; 5 days of golf attire, golf equipment (clubs, bag, balls, tees, gloves, etc.), golf shoes, sunscreen, rain gear, water etc..
Do junior golfers have to attend the entire camp?
No, but we strongly encourage campers to attend all scheduled events.
Are parents allowed to stay at camp events?
Absolutely, we encourage all parents to watch from far without embarrassing your son or daughter. Parents are not allowed to assist their son/daughter during challenges.
What are the topics of the clinics, seminars and workshops?
At LMGS, we what to provide the highest value for the junior golfer and family. Topic examples include: "transition from preteen for teen.", "Life Skills for the life challenge", "Physical literacy", "A Golfers skills", etc. We average over 15 hours of camp.
What is a typical camp schedule?
Day 1 – Welcome meeting with campers, golf clinic shows, physical skills and fundamentals of golf swing (3 hours)
Day 2 – Physical skills, games and short irons (3 hours)
Day 3 – Physical skills, other sport and long irons (3 hours)
Day 4 – Physical skills, other sport and short game (3 hours)
Day 5 – Short game competition, final clinic/shows, campers excused by 12pm.
What is our cancellation policy?
Your deposit is refundable if you cancel outside of 14 days prior to your camp. Within 14 days of your camp there is a 50% penalty. If you need to move your dates and it is within 14 days there is a $50 administration fee for all changes.
Do the Head Coach work full time for your camps?
I´m the company and I´m a Golf Coach Professionals for more than 20 years of experience teaching kids and young players in my schools and individual golf instruction. I want you to talk to me prior to my golf school. Yes! The Head Coach will be at the Camp full time. This is what you're paying for.
My suggestion: Look up for Luiz Martins we pair you with on a Google search for his credibility or access www.lmgolfschool.com or @lmgolfschool1.
Do you include on-course instruction each day of the program?
We have proven over the last 21 years we've been in business that if you learn the proper fundamentals, you can be able to play better golf and lower your golf scores on the golf course.
What happen if it is raining?
With all the care, social distancing and following the protocols established by the Ontario Government. We'll do our best to keep the campers out. In case there is no chance for torrential rain, then we will go inside the Dome.